All professionals at Progressive Dental Solutions maintain the highest levels of accreditation and pursue ongoing education to stay abreast of the latest trends in the medical field. Read on to learn more about our staff's experience and training.
Wayman J. Brown, D.D.S., F.I.C.O.I.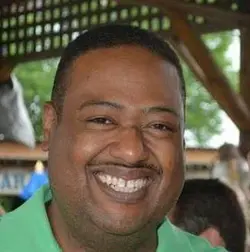 Dr. Brown, his wife Dawn, and their three children live in Mitchellville, Maryland. Dr. Brown completed his graduate program at Maryland University. After receiving his D.D.S. in 1993, he completed a one-year residency program at St. Elizabeth's Hospital and went on to private practice. Dr. Brown is a licensed dentist in the state of Maryland and is an active member of the American Dental Association, Maryland State Dental Association, Southern Maryland Dental Society,National Dental Association, Academy of General Dentistry, member of the Dental Organization for Conscious Sedation and the CEREC Study Club. Dr. Brown is also a fellow of the International Congress of Oral Implantologist.

Dr. Brown has a vested interest in his community and participates in numerous community health fairs. He also speaks at local schools on the importance of good dental health and provides complimentary toothprints for all children of his practice. In his leisure time, Dr. Brown enjoys playing golf, watching basketball and watching the Redskins play football.

Dr. Brown is a wonderful dentist who has been praised by his peers, as well as his patients, for his excellent clinical and communication skills. He is truly a caring and compassionate dentist. Dr. Brown and his staff are dedicated to providing five star care and service. "They treat patients like welcome guests."
---
Lana Weeks, R.D.H, B.S.
Lana Weeks is a devoted wife of twenty-five years and a mother of two beautiful girls. Lana received her Bachelors of Science degree in Dental Hygiene from Old Dominion University in 1989. Mrs. Weeks has been practicing dental hygiene in Maryland for twenty-five plus years. She is an active member of the American Dental Hygienist Association and the Southern Maryland Hygiene Association.
---